Parts of Inverness prison not fit for purpose, inspector says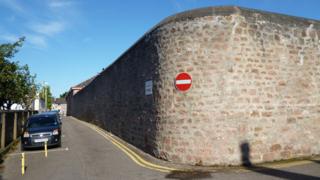 One of Scotland's oldest prisons is "no longer fit for purpose" in some areas despite the best efforts of its staff, an inspection has found.
HMP Inverness, the country's smallest jail, was opened in 1902.
Chief inspector of prisons David Strang, said the jail was overcrowded and disabled access was a problem.
While praising the commitment of staff, Mr Strang also raised concerns about a "very high turnover" of senior leaders at the jail.
The prison, which is also known as Porterfield, was designed to have a capacity for 98 prisoners.
At the time of the inspection in November last year the prison held 104.
The Scottish Prison Service has long been planning to build a new prison in the area.
Last October, Highland councillors granted planning permission in principle for the new jail on a site near Inverness Retail Park.
Cell sharing risk
Mr Strang said disabled access and the size of the old building were areas where the jail was no longer fit for purpose.
The prison had only one partially adapted accessible cell at the time of the inspection while it was not possible for a prisoner in a wheelchair to access the recreation room and education area, both of which are located on a second floor.
Although there was a chairlift in place, inspectors were told by staff that it was not used in case there was a need to evacuate and staff were unwilling to use the "Evac" chair provided.
The report also highlighted problems with the cell-sharing risk assessment process.
In one case a non-smoking Muslim prisoner had to share a cell for two weeks with an individual who smoked and had been identified as a racist.
Inspectors said staff had identified these issues and spoken to both prisoners but the situation should not have been allowed to continue for the time it had.
Mr Strang also raised concerns about there having been five governors in as many years.
He said: "It was disappointing to note that there had been a very high turnover of senior leaders since the last inspection in 2014.
"Continuity of leadership is an important factor in developing relationships within the prison and providing consistency of direction for the staff.
"Such a rate of change of governors had clearly been unsettling for the prison."
But he said that throughout the inspection it was clear that there were positive relationships between staff and the prisoners, which contributed to a sense of safety and order in the prison.
Mr Strang said: "I was impressed with the level of commitment and flexibility shown by the staff to meet the needs of the prisoner population."