Osprey EJ returns to reserve for 15th breeding season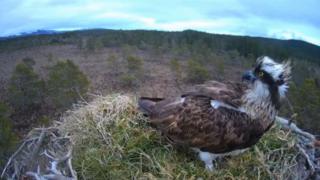 A female osprey has returned to a Highlands nature reserve for what RSPB Scotland says is her 15th breeding season.
The bird, known to conservationists as EJ, was spotted at her nest at the RSPB's Loch Garten reserve in the Cairngorms on Wednesday.
Ospreys migrate from west Africa to Scotland to breed and can be seen hunting for fish from rivers and lochs.
EJ is Loch Garten's most successful breeding female osprey.
During last year's breeding season, she refused to leave her clutch of eggs even after being buried under snow.
Loch Garten Osprey Centre manager Jess Tomes said: "Osprey migration is a dangerous business for these birds, so we're never sure year on year which ospreys are going to return to our nest.
"EJ is so much a part of the fabric of Loch Garten - it's like welcoming home a very dear friend. We're just delighted."
The bird will have to pair up with a new mate this season after Odin, her partner of nine years, disappeared mid-season last year.
RSPB Scotland said hopes were "running high" that a new pairing would be able to add to EJ's tally of 25 fledged osprey chicks from the Loch Garten nest.