Stornoway harbour ferry terminal upgrading work begins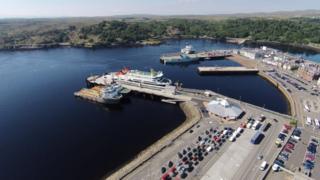 Work has started on upgrading work at Stornoway Harbour.
By the end of April additional marshalling approach lanes will be created at the ferry terminal. Users have been promised "minimal disruption".
Other parts of the project include improvements to the terminal car park and drop-off areas.
The mini-roundabout at the terminal building is being removed to improve the car park layout and exit route.
Stornoway Port Authority chief executive Alex MacLeod said: "Working with our partners, the Port Authority has, over the last year, been investigating alternative options to determine the safest and most efficient use of the ferry terminal reclamation area.
"Following these discussions, we have started the alterations which will lead to significant improvements to the terminal area.
"Extensive traffic management arrangements will ensure that there will be minimal effect on ferry terminal users during this time."
Transport minister Humza Yousaf added: ""I'm very pleased to see this work get underway, which will help improve operations at Stornoway Harbour and better manage the impact of ferry traffic on local roads."