Inverness joint 999 response car trial extended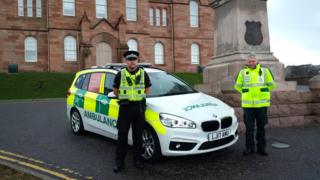 Police officers and paramedics in Inverness are to continue attending incidents in a joint response vehicle.
It follows a trial over the festive period when a patrol car was deployed in this way on three of the busiest nights.
The car was dispatched to calls which would normally have required both police and ambulance vehicles to attend.
Both police and ambulance services say valuable time was saved.
Over three nights, the vehicle attended 21 incidents. Most required no further back-up.
It was estimated that 13 hours of police time was saved, and eight hours of ambulance crew time.
'Fast and efficient'
Police Scotland Sgt Nick MacRae said: "We are pleased to be able to continue to work in partnership with our colleagues in the Scottish Ambulance Service on this initiative.
"The deployment of the joint vehicle was able to help us provide a fast and efficient response to a number of incidents where people were in need of assistance.
"It had the added benefit in many cases of allowing officers to continue with their regular duties keeping people safe in Inverness city centre where they might otherwise be tied up for an extended period."
The jointly crewed vehicle will now be available on the final Saturday of the month throughout the year, as well as on additional days around the festive period.
Scottish Ambulance Service area manager Steven Gorman added: "Time is of the essence in life-threatening incidents and these results illustrate the benefits for patients and both of our services.
"Working in partnership with Police Scotland in this way has helped saved valuable time, freeing up both police and ambulance resources, and we're delighted that this new approach to patient-centred care is continuing."