Stromeferry Bypass users face long detour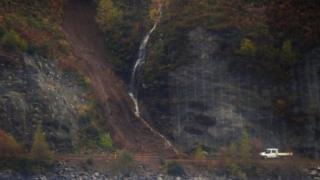 People using the Stromeferry Bypass in the Highlands will face overnight closures of the route and a long detour for three months later this year.
Highland Council said it was working with Network Rail to design a bypass which would allow cars and light vehicles to use the route between scheduled timetabled trains.
The Stromeferry Bypass helps to connect Lochcarron to Plockton.
It was built in the 1960s but has been plagued by rockfalls and landslides.
When the bypass is closed, drivers face having to take a 140-mile diversion, instead of the usual 18-mile route from Lochcarron to Plockton.
After a landslide in December 2011 the bypass was shut for four months. Highland Council has been looking at a long-term solution to the problems.
The annual inspection of the rockface adjacent to the bypass will take place on 16 April and will take five days of traffic management.
However, later this year, major remedial works will take place, from 3 September, which will last for 12 weeks.
Then the road is expected to remain closed overnight, with traffic diverted the 140 miles via Invermoriston.