Isle of Lewis cinema will open every Sunday after trial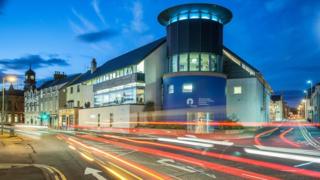 Managers at the arts centre on the Isle of Lewis have decided Sunday opening will become a permanent fixture.
An Lanntair in Stornoway ran a successful pilot scheme earlier this year which saw all three planned Sunday movie screenings sell out.
Now it has announced plans to open every Sunday - despite opposition from Sabbatarian church leaders who say it should be a day of rest.
The venue said the decision was based on audience feedback.
A statement said: "Each of the three cinema screenings was very well attended, demonstrating that there is strong demand for a cinema offer on Sundays.
"The arts activities for children and families were popular too. The trial has evidenced that audiences would like to see the arts centre open on Sundays.
"Feedback from the trial has shown that opening the arts centre as an inclusive and welcoming community space on Sundays has the potential to contribute to the health and well-being of people across our community."
'To serve the entire community'
It added that it was there to "serve the entire community, and can serve different parts of it in different ways."
The venue will begin opening on Sundays as soon as possible but the change will not take effect immediately.
Management have made a commitment to staff that they will not be expected to work on Sundays if they do not want to.
The cafe bar, which remained closed during the trial, will also be open under the new hours.
When the trial began, some church leaders, including Stornoway Free Church minister Rev James MacIver, opposed it.
He said Sundays gave people time for the "spiritual side of their lives" and was for attending church services.
His protests did not put 250 people off buying tickets for Star Wars: The Last Jedi.