Risk of full depth avalanches remains, says SAIS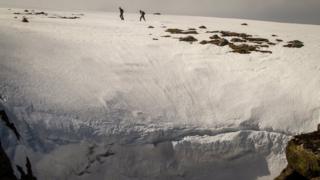 Walkers, climbers and ski tourers have been warned of the potential for full depth avalanches in some areas of Scotland's mountains.
The Scottish Avalanche Information Service (SAIS) issued its last daily report of its latest season on Sunday.
But it said snow fields remained present in the mountains and hills above 750m (2,461ft), with extensive fields above 1,000m (3,281ft).
SAIS has recorded a provisional figure of 222 avalanches for the season.
The final figure will be provided in the service's annual report.
A total of 90 avalanches were recorded last season, SAIS' lowest number of recorded avalanches in almost 10 years.
SAIS provides daily information on the stability of snowpack in the six areas from about mid-December until mid-April.
The six areas are Lochaber, Glen Coe, Creag Meagaidh, Southern Cairngorms, Northern Cairngorms and Torridon.
---
Previous SAIS seasons' avalanche numbers
2015-16 - 207
2014-15 - 305
2013-14 - 350
2012-13 - 129
2011-12 - 154
2010-11 - 178
2009-10 - 220