'New evidence' over RAF jets crash in Moray Firth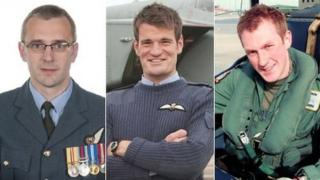 Campaigners seeking a fatal accident inquiry into a crash involving two RAF Tornado jets over the Moray Firth have given "new evidence" to the Crown Office.
Three airmen were killed and another seriously injured when the aircraft collided over the Moray Firth off the Caithness coast in 2012.
The Crown Office said it would "carefully consider" the material.
It has previously ruled out holding a fatal accident inquiry (FAI).
The "new evidence" relates to possible flaws in the way the RAF carries out risk assessments.
The planes from 15 (Reserve) Sqn at RAF Lossiemouth, in Moray, crashed into the sea during a training flight.
Moray SNP MSP Richard Lochhead, who was involved in the talks, said many issues remained outstanding in the case and should be examined by an inquiry.
Safety of aircraft
After the talks, he said: "I felt we had a good hearing at the meeting with the Crown Office to try to persuade them to hold a fatal accident inquiry.
"We felt there were some issues that need to be addressed now, that perhaps weren't part of the military inquiry, relating to the safety of the aircraft."
"I do hope they have listened closely and we can get this FAI to take place so we can learn all the lessons that can be learnt from the tragedy in 2012."
In 2015, the Crown Office said the incident had been the subject of a "very detailed" report following an investigation by the Military Aviation Authority (MAA).
All 42 recommendations in the MAA report were accepted by the Ministry of Defence and in the process of being implemented, including installation of collision warning systems, the Crown Office said at the time.
The incident is not covered by new legislation which now provides for mandatory FAIs for the deaths of service personnel.
Each of the Tornados involved in the crash had two crew members on board.
Bangor-born Flt Lt Hywel Poole, 28, died in hospital after being airlifted from the scene.
Sqn Ldr Samuel Bailey, 36, from Nottingham, and Flt Lt Adam Sanders, from Formby, 27, were also killed.
A fourth RAF serviceman, Sqd Ldr Paul Evans, survived but was badly injured.
A Crown Office spokesman said: "We will carefully consider the material provided to us during the meeting with Richard Lochhead MSP and respond in due course."