Model T parade to launch new Bronze Trail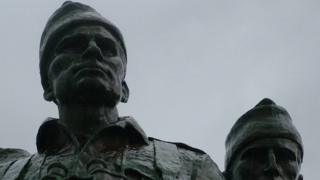 A new trail linking up the sites of bronze statues in Lochaber is to be launched this weekend.
The Bronze Trail will feature a new statue in Fort William of a Ford Model T, recalling the driving of one of the cars up and down Ben Nevis in 1911.
A parade of about 50 original Model Ts being held as part of Saturday's unveiling of the statue will launch the new trail.
Other statues involved are in Inverlochy and Spean Bridge.
Organisers of the Bronze Trail said they hoped people would follow it to visit each of the sites, and learn more about Lochaber's culture and heritage.
As well as the Model T, there is a statue in Fort William marking the finish of the West Highland Way.
Portraying a walker rubbing a foot, the statue is known as Sair Feet, or Sore Feet.
Another of the bronze sculptures depicts a life-sized figure of an aluminium worker.
Installed at Inverlochy, it celebrates aluminium production in the area.
The Commando Memorial at Spean Bridge recalls military training done in Lochaber during World War Two.