Navy helicopters transported from Scotland to Australia
Two Royal Australian Navy helicopters were flown more than 11,185 miles (18,000km) from Scotland to Australia following the crews' involvement in military training.
The machines were transported from RAF Lossiemouth in Moray by a pair of Royal Australian Air Force C-17A Globemaster III aircraft at the end of Exercise Joint Warrior earlier this month.
To attend the training, the MH-60R Sea Hawk helicopters, along with aircrew, maintenance workforce and required support equipment and spare parts had to be first transported from New South Wales, Australia, in April on the Globemasters.
The Sea Hawks were offloaded at RAF Brize Norton in Oxfordshire and then flown by their own aircrews to Scotland to take part in anti-submarine warfare training.
The helicopters also made training sorties over Loch Ness.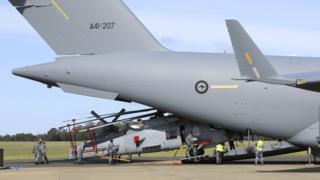 An Australian defence spokesperson said: "The C-17A Globemasters allowed the RAN Sea Hawk crews to deploy to Scotland and participate in this exercise without travelling from Australia on a ship.
"The Globemaster is often used by Australian Defence Force units to airlift helicopters, vehicles, and other outsized loads to exercises and operations within Australia and across the globe.
"At the conclusion of the exercise in May, the C-17As collected the Sea Hawks from RAF Lossiemouth in Scotland for the return journey."
The Sea Hawks are based at HMAS Albatross, a navy air station that has had involvement in efforts to find missing Malaysia Airlines flight MH370.
RAAF C-17As are based at RAAF Base Amberley, near Brisbane, in Queensland.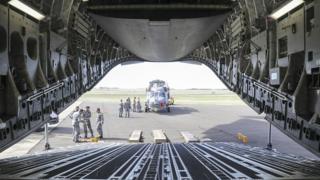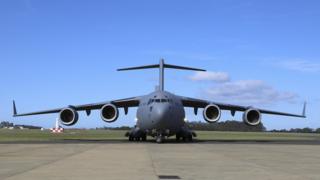 All images are copyrighted to Commonwealth of Australia.