Community vote for Urquhart Castle visitor centre plan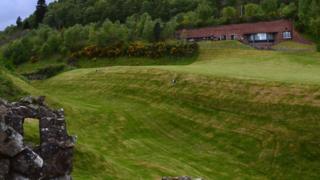 People living near one of Scotland's most iconic sites are to vote on a proposal to take part of it into community ownership.
Glenurquhart Rural Community Association (Gurca) has suggested the visitor centre at Urquhart Castle on Loch Ness be community run.
Urquhart Castle, a medieval fortress, was once among Scotland's largest castles before it became a ruin.
The site remains one of Scotland's most popular visitor attractions.
The castle and its visitor centre are currently managed by a public body, Historic Environment Scotland (HES).
Susan Clark, of Gurca, said the group believed surrounding communities, including Drumnadrochit, should have the opportunity to manage a "major local asset and share in its profitability".
She said: "There is a feeling it brings a lot of tourists to the area, but as visitor numbers have grown, so has the impact on the village in terms of parking and everything else that goes along with tourism."
People have been asked to vote on Gurca's proposal during this week.
The votes will be counted at the weekend.