Nairn's Lily Hey awarded Diamond Blue Peter badge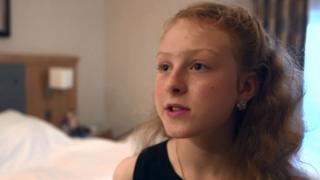 A Scottish schoolgirl has been awarded one of Blue Peter's highest honours in recognition of charity work she does in memory of her brother.
Diamond badge winner Lily Hey's brother Hamish, eight, died last year following a battle against cancer.
The 11-year-old and her family raised funds for charities that supported Hamish.
Following his death, they began raising money to create a new community feature in their home town in Nairn.
The limited edition Blue Peter Diamond badge, designed by international fashion designer Henry Holland, was launched earlier this year to mark the show's 5,000th episode and its 60th anniversary.
Its awardees include young people who have inspired others.
Lily and her grandmother Liz Bow were invited to last Saturday's wedding of Prince Harry and Meghan Markle in recognition of the family's charity work.