Kevin Mcleod death: Complaint about police probe upheld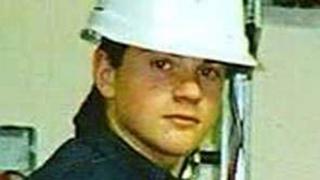 The Scottish Police Authority has been asked to address "shortcomings" in its handling of a complaint from the family of a man found dead 21 years ago.
The body of Kevin Mcleod, 24, was found in Wick harbour on 9 February 1997.
His family believe he was murdered and have criticised how police have handled the case.
A procurator fiscal at the time instructed Northern Constabulary to investigate Mr Mcleod's death as a potential murder inquiry.
However, the force did not act on that instruction.
The constabulary has since been superseded by Police Scotland, and Mr Mcleod's family have been campaigning for the force to investigate both his death and the police handling of the case.
Complaint handling
The Mcleod family raised concerns with the Scottish Police Authority (SPA) that Police Scotland did not "thoroughly investigate" police handling of the case in 1997.
Unhappy with the SPA's response to that complaint, the Mcleods went to the Police Investigations and Review Commissioner (Pirc).
The watchdog has upheld the complaint and asked the SPA to address shortcomings in its response.
A spokeswoman for the SPA said: "The SPA's complaints and conduct committee will carefully consider and address as required any recommendations made by the Pirc following a complaint handling review."
Police Scotland has previously apologised for how the former Northern Constabulary handled the case.
Earlier this month, the Lord Advocate instructed an experienced prosecutor to review police handling of Mr Mcleod's death.