Revamp for 'sensationally ugly' Inverness buildings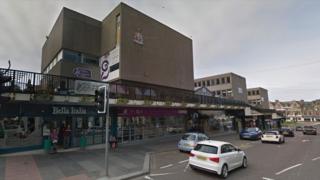 Highland Council has unveiled plans to redevelop the site of eyesore buildings in the centre of Inverness.
The concrete office blocks were constructed during a period of development on the banks of the River Ness in the 1950s and 1960s.
The local authority is purchasing the site and is expected to consult the public on its future.
US travel writer Bill Bryson described the buildings on Bridge Street as "sensationally ugly".
'Spirit of Highlands'
Highland Council's planned takeover of the buildings, which have in the past served as a headquarters for the Highlands and Islands Development Board and Crofting Commission, forms part of the redevelopment of Inverness Castle and the nearby museum.
The Scottish Courts and Tribunals Service occupies most of the castle, but is to move out and relocate to a new complex by about 2020.
Inverness Castle is to then be turned into a major tourist attraction.
Rural Economy and Connectivity Secretary Fergus Ewing, who attended the council's announcement, said the Bridge Street office blocks had "few friends" in Inverness and welcomed the council's redevelopment plans.
The Scottish government is to provide funds through the Inverness City Region Deal to support the purchase of the site, which could cost up to £10m.
'Great grey lumps'
Mr Ewing, who is also the local MSP, said the hope was to make Inverness Castle a visitor attraction of "international class".
He said: "I see it as a way of presenting the Highlands, the scenery, the stories and the spirit of the Highlands."
Highland Council's leader Margaret Davidson said the redevelopment of the offices site would be phased over a period of about 10 years.
She said: "We have the opportunity of buying those great grey lumps that are next to the museum and the castle, and controlling them and can now think about what we do with them.
"I know the favourite would be to press a button and blow them up, but lets just think about exactly what we are doing and in what order before we move ahead."
'City gateway'
The project has been welcomed by the Scottish Council for Development and Industry.
Its Highlands and Islands director Fraser Grieve said: "Today's announcement on Bridge Street is a great leap forward for the development of Inverness Castle.
"For too long has this important asset been detracted by its surrounding buildings and now we're thankfully seeing a major step to enable the future redevelopment of this important site.
"A key part of the Inverness City Region Deal, this project will not only benefit Inverness but will support tourism throughout the region by opening up the castle and regenerating this gateway for so many visitors to the city."
Large parts of the office block are empty.
However, areas below the offices are occupied by shops and restaurants.