Minister Maree Todd's rugby shirt used for women's votes banner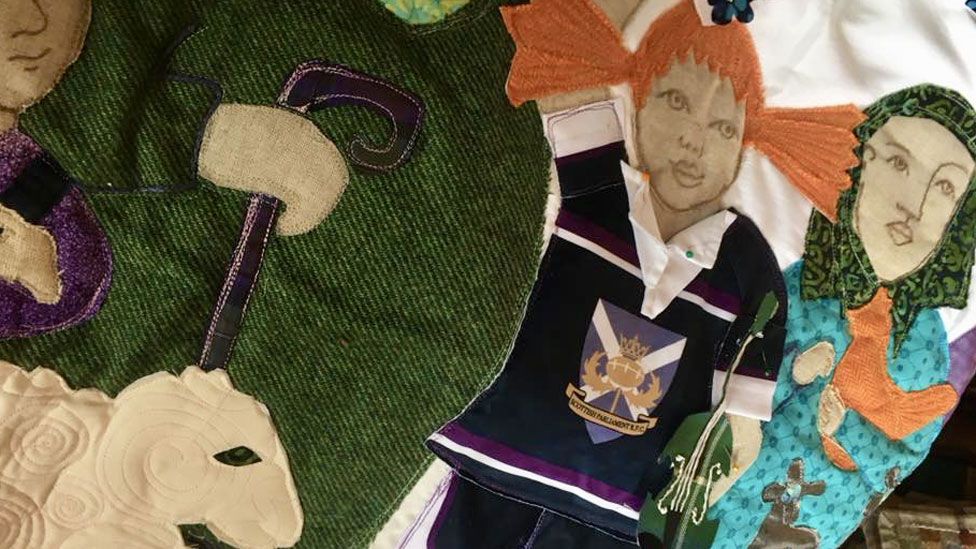 Part of a rugby shirt worn by Childcare and Early Years Minister Maree Todd has been stitched into a banner celebrating 100 years of votes for women.
The SNP MSP played in the shirt during last season's Parliamentary Six Nations.
The banner was made in Ullapool, where she grew up.
Made at local arts hub, An Talla Solais, it is one of 100 created across the UK and will be shown at celebrations being held in Edinburgh.
It portrays the life, history and culture of Highlands women.
Among women travelling from Ullapool for the weekend events will be farmer Lucy Beattie and her daughter Brenna, eight, who is represented on the banner as a girl wearing Ms Todd's rugby shirt.
Ms Todd said: "I play in the parliamentary team, the first woman to do so and still the only female MSP involved.
"Parliamentary rugby was started by Nelson Mandela, who saw the opportunity to bring very different people together through sport."
She added: "We play in an international six nations against other parliaments and I am proud to have ensured that women have the opportunity to be involved too.
"I'm delighted that wee bit of history has been stitched into our banner."
Victoria Caine, who headed the banner project for An Talla Solais, said: "Naturally, we are incredibly proud to have been chosen to represent our area of the Highlands for this historic artwork event.
"Community is everything here and one of the best elements of the workshops was bringing together women who might not have had a connection until now and watching them form a group.
"Being with them was an absolute joy and I loved their company and stories."