Paraplegic climber injured on Ben Nevis challenge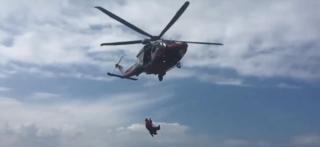 A paraplegic adventurer could lose the lower part of his right leg after being badly injured during an attempt to scale Ben Nevis.
Shaun Gash, 50, from Lancaster, was being pulled by a team of charity volunteers in an off-road wheelchair.
His right leg became caught under the buggy, but he was unaware of this having lost the feeling in his legs in a car accident more than 20 years ago.
Mr Gash was flown to hospital in Inverness where he is receiving care.
Lochaber Mountain Rescue Team and Prestwick's Coastguard helicopter went to his aid.
His leg was broken as he was pushed and pulled to within a few hundred yards of the summit of Britain's highest mountain.
Mr Gash, who has completed other ventures such as skydiving, noticed the damage to his leg while he and the others sought shelter from a hailstorm.
Doctors at Inverness' Raigmore Hospital are expected to make a decision on whether the lower part of the leg can be saved in two weeks', by which time blistering and tissue damage should have healed.
Mr Gash was part of a challenge to raise £3,000 to be distributed between Help For Heroes, Calvert Trust, Backup Trust, and Georges Legacy.
His own organisation No Fear on Wheels and another called Team Easy were involved in the climb of Ben Nevis.
Experienced climbers were part of the effort that was completed by the rest of the party.
David Walters, who was involved in the climb, said his friend was dealing his ordeal in the same spirit and determination that had helped him to overcome other challenges.
Mr Walters thanked Mr Gash's rescuers, adding that any money raised above the target figure would be donated to Lochaber MRT.