Freshwater pearl mussels poached in Cairngorms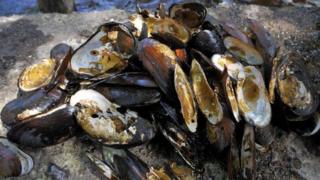 Police have appealed for information after 80 freshwater pearl mussels were killed in a poaching incident on the River Spey in the Cairngorms.
The mussels, an endangered species, were found near a fishing hut about a quarter of a mile downstream from the Old Spey Bridge in Grantown on Spey.
The shellfish are poached for their pearls.
Police said the mussels in the Spey incident happened over the weekend of 9 and 10 June.
Last month, several dozen freshwater pearl mussels were killed by poachers in Assynt in the north west Highlands.
Assynt Field Club said the shellfish were forced open in the "off chance" one or more might contain a pearl.
The group said the poaching had happened at some point during the previous two months.
Julius Caesar
Scottish Natural Heritage has previously warned that freshwater pearl mussels may be extinct from several rivers in Scotland due to poaching.
Pearl mussels are similar in shape to common marine mussels, but can grow larger and live for up to 130 years in fast-flowing rivers.
Early in their life cycle they live harmlessly on the gills of young salmon and trout.
Poaching, loss of habitat and pollution are among the reasons for dramatic declines in their numbers.
Scotland's Highlands and Islands are among Britain's last strongholds for the critically endangered species.
In history, Julius Caesar's admiration of pearl mussels is cited by his biographer as a motive for the first Roman invasion of Britain in 55BC.