Glass half fulmar? 'Happy' bird photographed off Stroma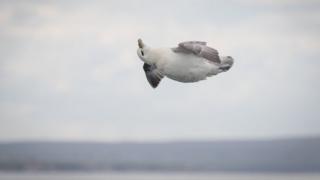 A wildlife photographer's image of a fulmar appears to show the sea bird gliding cheerfully through the air on its back.
Karen Munro took her picture while on a boat trip around the deserted island of Stroma, which lies between the Caithness mainland coast and Orkney.
Her tweet of the picture with the caption "Someone seems happy" has been widely shared.
The photograph was taken over the weekend.
Fulmars are skilled at flying low over the sea and riding up draughts to reach their cliff-face nests, which they defend against rivals and predators by spitting a smelly oil.
Lived on for centuries, Stroma had a thriving population of more than 300 people in 1901. Farming, fishing and supplies from the mainland sustained the community.
The number of islanders declined over later years and in 1962 the last 12 inhabitants left.
Stroma continues to be used for grazing livestock.