Anger at bird hide damage to Neolithic burial site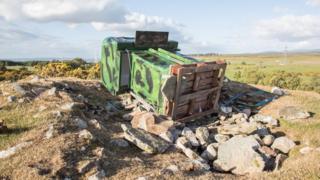 A makeshift bird hide has been built on the site of a Neolithic burial cairn, damaging the 3,000-year-old archaeological site.
Made from the canopy for a pick-up truck and a wooden pallet, it was constructed on one of three ancient cairns at Carn Glas, near Inverness.
Police Scotland said it was aware of the structure at Essich.
Historic Environment Scotland (HES) said it was taking enforcement action to have the hide removed.
Turf and stones were moved at the cairn, one of three at the site which are of a design usually found further north in the Highlands and also in Orkney.
The hide, which has toppled over, had been fixed in place by heavy metal pins.
'Undertaking actions'
North of Scotland Archaeological Society (NOSAS) said the cairn had been "deliberately damaged".
Caithness Broch Project, another archaeology group in the Highlands, said: "Top tip: when erecting a hide, don't do it over a 3,000-year-old burial cairn."
A spokeswoman for HES said: "We are aware a temporary structure has been erected at Carn Glas without Scheduled Monument Consent.
"We are currently undertaking actions in line with our enforcement policy to ensure the structure is removed."
There has been inference of ancient burial cairns before.
'Cursed stone'
Last year, stones were dislodged and graffiti written on a rock at the 4,000-year-old Clava Cairns near Culloden in the Highlands.
The cairns were built as houses for the dead and the cemetery was a used as a sacred place for 1,000 years.
The damage to the cairns, an inspiration for Diana Gabaldon's Outlander stories, was highlighted by local group Inverness Outlanders.
Eighteen years ago, a Belgian tourist took a stone from Clava Cairns as a souvenir before returning it after complaining it had cursed his family.
Surprised staff at Inverness Tourist Centre received a parcel containing the stone and a letter which urged them to return it to its rightful place at the cairns.
The man said that since taking the stone, his daughter had broken her leg, his wife had become very ill, and he had lost his job and broken his arm.
A tourist official returned the "cursed stone" to Clava Cairns.