Isle of Barra's mobile RBS bank service suspended amid 'hostility'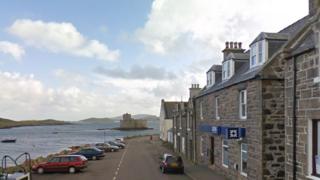 Royal Bank of Scotland is suspending its mobile banking service for Barra until an independent review of branch closures has been completed.
The bank said staff working on the service had faced "hostility" on a "small number of occasions".
The island's branch is one of 10 across Scotland earmarked for closure, but is due to remain open until at least the end of the year.
RBS also blamed low usage and a lack of ferry space for the decision.
The bank said that its independent reviewer, Johnston Carmichael, would provide it with a recommendation on the fate of each of the 10 branches under review in September.
The bank said it would accept the recommendations in full.
'Valuable space'
A spokeswoman for RBS said: "The review will include all the alternative ways of banking on Barra including the mobile van.
"In the meantime, due to a range of factors including low usage, the ferry capacity and a degree of hostility our staff on the mobile branch have faced on a small number of occasions, we are suspending the mobile branch service from week commencing 2 July until the review is complete.
"Our colleagues will be informing customers over the coming days, whilst the mobile branch is still running."
Western Isles SNP MP Angus MacNeil said he hoped RBS would abandon its planned closure of the Barra branch, and not try to replace it with a mobile service.
He said: "RBS were planning a three times a week service to Barra, taking up valuable space on the ferry and spending thousands of pounds on travel.
"The penny may finally have dropped that it is better not only for their customers but also their own bank balance to abandon all plans for branch cuts."