Loch Ness Monster: Nessie 'not encountered' by researchers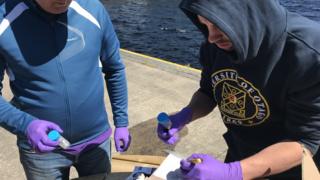 An international research team says it did not encounter the Loch Ness Monster while testing samples of water from the famous loch.
The scientists took water samples at various depths throughout the loch, collecting all forms of DNA present in the water for further analysis.
While they did not come face to face with Nessie, they suggest there may be a "biological explanation" for her.
Samples were taken from around the loch and from up to 200m (656ft) down.
The team, consisting of researchers from the universities of Otago, Copenhagen, Hull and the Highlands and Islands, did the work between 2-16 June.
There is speculation that new species of life, particularly bacteria, could be discovered through the DNA analysis as well as evidence of invasive species, such as Pacific salmon.
The project has attracted international media attention.
Prof Neil Gemmell, of New Zealand's University of Otago, said: "Environmental DNA is reasonably new so still has some form of novelty.
"But, when you link its power to documented life in a given system, with the world's most famous body of water, within which a monster "Nessie" is reputed to reside, people really take notice."
Results of the project are expected in early 2019.
Meanwhile, fans of the Loch Ness Monster can see a digital version of her - and her baby - swimming in the River Ness in Inverness using a new app.
It can be downloaded from a new riverside plaque that features artwork by Millburn Academy pupil Anna-Evelina Zelanika.
The plaque is one of a series that have been installed around Inverness as part of a new tourism project involving Highland Council.