Veteran Applecross fisherman not using safety gear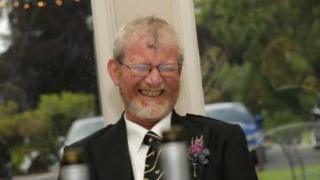 A prawn fisherman who died in an accident last year did not have safety measures on his boat to help prevent him from falling overboard.
Alasdair Macleod, 57, was a third generation fisherman and a well-known figure in the community of Applecross.
His boat, Varuna, was spotted aground with its engine running on 20 November. His body was found three weeks later.
An investigation has found a door that could be closed after shooting creels and a safety tether were not used.
The Marine Accident Investigation Branch (MAIB) said Mr Macleod was not wearing buoyancy aids, such as a lifejacket, or an alarm to alert anyone once he had fallen overboard.
'Important role'
Mr Macleod was well known across the Highlands for his community work and contributions on Scottish fishing policy.
He was a director of the local Pier Users Association and Apple Juice (Applecross) Community Benefit Society, as well as a community council chairman. He was also a popular member of staff at the Applecross Inn.
Following his accident, pupils at Applecross Primary School made drawings as tributes to him.
In its report on his accident, the MAIB said the University of Edinburgh history honours graduate played an "important role" in the community.
The report also said Mr Macleod had life-long "desire to follow his family tradition of fishing and he was reported as enjoying the hours he spent out on Varuna".
On the day of his accident, he had set out in the morning to his usual fishing grounds to catch prawns and crabs. He sold his catch locally.
Later, at about 14:15, a helicopter taking military submarine test range personnel from Kyle of Lochalsh to the range control facilities on the island of Rona flew over Saint Island.
A passenger on the helicopter spotted Mr Macleod's boat aground with its engine still running.
The alarm was raised and extensive searches involving the coastguard, RNLI and local fishing boat crews followed.
Three weeks after the accident Mr Macleod's body washed ashore in Staffin Bay on the Isle of Skye.