Sutherland prepares for spaceport launch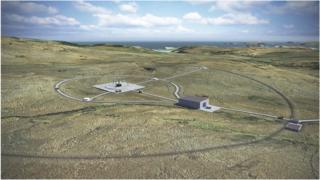 The A'Mhoine peninsula in Sutherland is now in a prime position to become the UK's first spaceport.
The UK government's business secretary has announced he is giving Highlands and Islands Enterprise (HIE) a grant of £2.5m to develop the proposal for a vertical launch site.
It is hugely encouraging news for Scotland's north coast, an area still recovering from economic blows such as the closure of the Dounreay atomic research site.
But does that mean A'Mhoine has won the competition to be the UK's spaceport? Only up to a point, Lord Copper.
For a start, the idea of a contest for UK government approval to be the country's only spaceport died a couple of years back.
In its place is what we see now: several sites being challenged by ministers to put together an attractive package for space launches, preferably in concert with a rocket builder.
Spaceport licence
The announcement doesn't mean the Sutherland site gets a spaceport licence yet. While the Space Industry Act 2018 is on the statute book the detailed regulations which would have to be met do not exist yet.
Issues like range safety and insurance remain to be resolved.
There is no doubting that the A'Mhoine peninsula - you'll find it on the map between Durness and Tongue - is ideally suited for launching small and medium sized satellites.
This might seem counter intuitive. The hitherto famous launch sites - Cape Canaveral, Baikonur, Kouru - are near the equator because the spin of the Earth at those latitudes gives rockets an extra 'throw' into high orbits.
But northern Scotland allows smaller satellites to be placed into polar or sun-synchronous orbits. As the name suggests, polar flights go over the top and bottom of the world and can see in better detail things which satellites over the equator cannot.
A sun-synchronous orbit places a probe where it is over the same spot on the Earth's surface when the Sun is in the same position in the sky each day. That means images can be accurately compared to detect erosion, subsidence or crop changes.
The satellites that can do that are already being built in Scotland by the score.
Bottle-sized satellites
Most are based on the Cubesat format, each about the size of an big bottle of supermarket cola. They can pack as much as three litres of advanced electronics.
The UK's first Cubesat was built in Glasgow by the Clyde Space company. Then the US company Spire chose the city as their European base. Now there are more Glasgow built satellites in orbit than from any other city in Europe.
A third Scottish satellite builder, Alba Orbital, is waiting to put an even smaller probe up there.
So far all of Scotland's satellites have had to be sent abroad to await launch a passengers on big rockets carrying big payloads. That wait can sometimes stretch years.
A launch site here would cut transport and insurance costs drastically. Good news for a Scottish space industry that already turns over £1bn a year.
The rockets carrying them would be impressive but not huge. (At least one newspaper has illustrated its coverage with a picture of a Russian Soyuz lifter. One of those thundering over Tongue is about as likely as me being Scotland's first astronaut.)
Instead we will see more modestly sized and probably solid fuelled launchers. Where they come from will be the key to many more jobs.
The first and so far only rocket to reach space from Scotland was shipped in from the US and launched from the Hebrides range in the Western Isles.
Horizontal launch
That could happen at A'Mhoine, but a rocket manufacturing plant here would bring many more economic benefits. That and many other details remain to be worked out.
Not least what happens to the other contenders in the UK spaceport race. The UK government is making it clear that they are by no means out of it.
Another part of the announcement is a £2m fund for which bidders for horizontal launch sites can compete.
Horizontal launches are involve spacecraft carried by conventional aircraft. The UK government mentions Prestwick, Newquay and Snowdonia among the runners for this.
So while A'Mhoine could indeed become the first UK spaceport in the UK it is unlikely to be the only one.
Meanwhile HIE will be looking to fill in more blanks about the project. How easy will it be to get planning permission? What about wildlife? Where might a rocket factory be? What about infrastructure: rockets are long and straight; Sutherland's roads are the former but not the latter, although deliveries could come by sea.
What it all adds up to is that there could be a long countdown before all systems are go.