Water works moved from Muir of Ord to Lochmaddy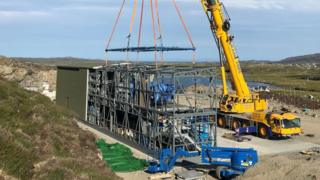 A new water treatment works has been transported 128 miles (206km) by road before being taken by ferry for reassembly in North Uist.
Built and tested at Ross-shire Engineering in Muir of Ord, the transportable treatment unit (TTU) was dismantled into 12 modules.
Over three weeks, modules were taken by lorry to Uig in Skye and from there by ferry to Lochmaddy.
The water works is being constructed near Lochmaddy.
Scottish Water said the deliveries were planned in a way to minimise disruption to road and ferry traffic.
Project manager Anoushka Ainslie-McAlpine said: "We're very pleased that these deliveries have gone smoothly and would like to thank other road and ferry users for their patience while they were taking place.
"The benefit of these modules is that we were able to get construction underway as soon as the first units arrived, making for a much quicker process with less impact on the local community.
"Work is progressing well on site and is expected to be complete by the end of the year."