Cargo ship still aground off Caithness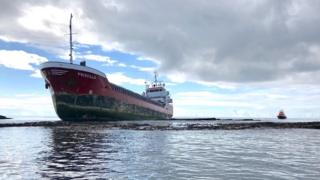 A cargo ship remains aground on the Pentland Skerries between Orkney and the Caithness coast.
The 89m (292ft) Priscilla, which has six crew, got into difficulty at about 03:30 on Wednesday.
Thurso RNLI and a tug Green Isle were first on the scene but attempts to refloat the ship have so far failed.
The Maritime and Coastguard Agency (MCA) said the crew had reported no significant damage and there was no sign of pollution.
A second, more powerful tug arrived from Scapa Flow in Orkney mid-afternoon, just before high tide but the Maritime and Coastguard Agency said it was still not possible to move the ship.
The coastguard's emergency towing vessel (ETV) Ievoli Black arrived at about 17:00 and remains on standby, along with the Longhope lifeboat which has relieved the Thurso RNLI crew.
A spokeswoman for the Maritime and Coastguard Agency said a further attempt to refloat the ship could be made overnight.
She continued: "The ETV will be standing by the vessel overnight and it is unlikely that a further attempt will be made to refloat the vessel before the next high water period which is due at 4am on Thursday.
"The Longhope RNLI lifeboat is also still on scene. The vessel remains stable and there are still no signs of any major damage and no signs of any pollution. The crew remain safe and well."