Croatia semi-final against England was a particularly intense match, says Scots-born analyst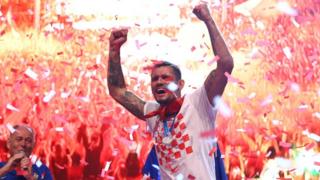 A Scots-born analyst for Croatia's national football team has said the semi-final against England was a more intense experience than the final.
Marc Rochon, who was born in John O' Groats and grew up in England, studied video of opposition teams' performances for Croatia during the World Cup.
He said going into the final against France, the players and staff were "more relaxed" than in the semi-final.
Mr Rochon described the World Cup as an "unbelievable experience".
The video analyst had previously worked with Croatian coach Zlatko Dalić at football club Al-Ain in the Middle East.
Mr Rochon, who joined Dalić in Croatia in November last year, told Stephen Jardine on BBC Radio Scotland's The Kaye Adams Programme that he had been one part of a team effort at the World Cup in Russia.
His analysis of opposition teams, including how they tackled set pieces, was used as part of preparations for games, including players' training.
Mr Rochon said: "It was an unbelievable experience. I feel very grateful to have been able to do it."
On the build up to the game against France, he said: "The team was more relaxed about the final than the England game.
"We had achieved more than any other Croatian team had done.
"We were in a very good place. Everybody was happy, relaxed and prepared."
He added: "We took the game to France."
Mr Rochon said it was not clear at this stage what future involvement he might have with Croatia.
Asked if he would help the Scotland national team if asked to do so, he said: "I know the Scottish Football Association has a very good analysis department already.
"I have also met the guys from Aberdeen FC before and a couple of years ago those at Rangers as well.
"Every team and club has its own way of doing things.
"If I can help, I am happy to do that."