Salvage expert overseeing work to refloat grounded ship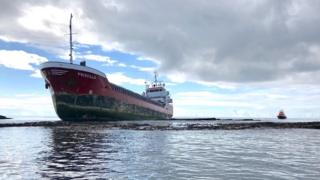 The UK government official who oversees the salvage of grounded and wrecked ships and marine structures is monitoring the grounded Priscilla.
The 89m (292ft) cargo ship, with six crew on board, ran aground on the Pentland Skerries between Orkney and Caithness on Wednesday.
Efforts have been made, so far unsuccessfully, to refloat it.
Hugh Shaw, the Secretary of State's Representative for Maritime Salvage and Intervention, has been kept informed.
The Maritime and Coastguard Agency said he was in dialogue with the owner and insurer of the ship "regarding the future plans for salvage".
Mr Shaw's previous work in Scotland has included overseeing the salvage of the rig Transocean Winner after it ran aground at a beach in Lewis in 2016.