Oil to be removed from stranded ship MV Priscilla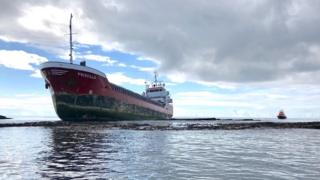 Tonnes of oil are to be removed from a cargo ship which ran aground in the Pentland Firth.
MV Priscilla has been stranded on the Pentland Skerries off the Caithness coast since last Wednesday.
The six crew on board are said to be safe and well and the coastguard said the 89m vessel is in "stable position" but stuck hard aground.
Salvage experts have now agreed to remove up 35 tonnes of the marine gas oil it is carrying.
The coastguard said the ship did not sustain major damage and there are no signs of pollution.
The oil removal is "precautionary measure" ahead of a further attempt at refloating after previous attempts were unsuccessful.
Part of the ship's 3,300 tonne cargo of fertiliser will also be removed during the salvage operation, which has been approved by Hugh Shaw, the Secretary ofState's Representative for Maritime Salvage & Intervention.
A Maritime and Coastguard Agency spokeswoman said about 1,350 tonnes of cargo will be removed onto barges then loaded onto a waiting cargo ship.
Pressurised air will be pumped into the ship's tanks, ballast removed and an attempt will be made to refloat the vessel on high water.
If successful, a brief inspection will take place before the ship is towed to safe location for more in-depth investigations.
A temporary exclusion zone around the vessel has been doubled to 1,000 metres in advance of the salvage operation commencing.