Christopher Eccleston's fan picture is a social media hit
By Steven McKenzie
BBC Scotland Highlands and Islands reporter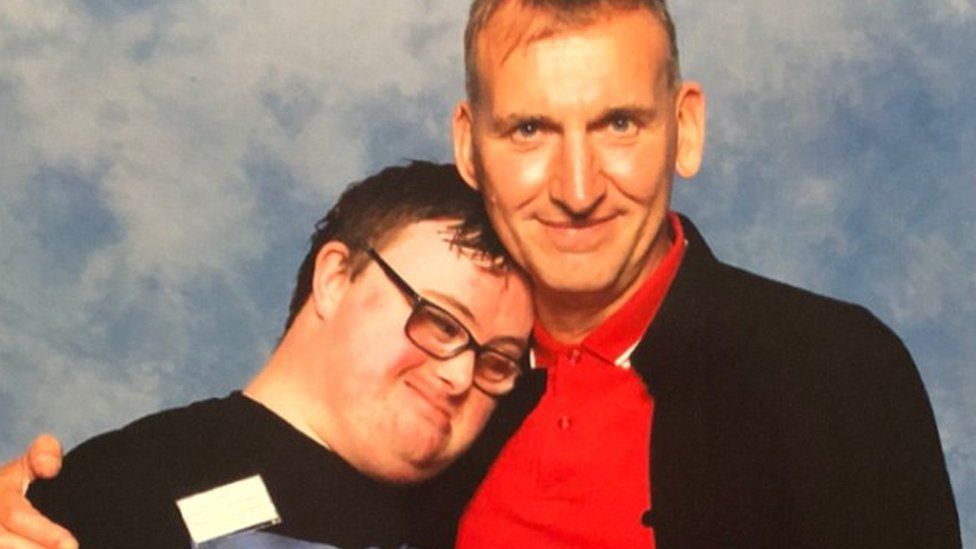 An image of actor Christopher Eccleston's with one of his biggest fans has become a hit on social media.
Martin MacSween, 26, travelled from his home in Ness, in Lewis, to the London Film and Comic Con, where Eccleston was among the star guests.
His brother Murdo tweeted the picture with the message: "Anyone who knows my brother Martin will know how huge a thing this is for him."
The Twitter post has had more than 1,500 retweets and 17,000 likes.
More than 300 comments have also been posted to the tweet.
Martin has been a fan of Eccleston since 2005, and followed his career through shows such as Doctor Who, Fortitude, The Leftovers and The A Word.
Murdo tweeted: "He met Christopher Eccleston.
"He's delighted and completely on cloud nine."
Murdo told BBC Scotland News online: "Martin has been waiting to meet Christopher Eccleston for at least 10 years.
"He was absolutely giddy after the fact and I had to sit him down in a cafe to get him composed again.
"He's absolutely over the moon."
The event in London finally gave Martin the chance to meet his hero, whose film roles have included David Stephens in Shallow Grave and villain Malekith in Thor: Dark World, during the comic con.
Murdo said: "Chris was amazing with Martin.
"Martin was so nervous and could barely talk but then threw his arms around Chris unannounced and Chris took it in his stride.
"He then held Martin's hand as he spoke to him.
"When we went for the photo afterwards Chris said: 'Here's my pal Martin', which Martin now can't stop talking about."
Murdo added: "'Pal' isn't a word Martin would usually use but now it's all he'll say."