Plan to eradicate giant rhubarb from Western Isles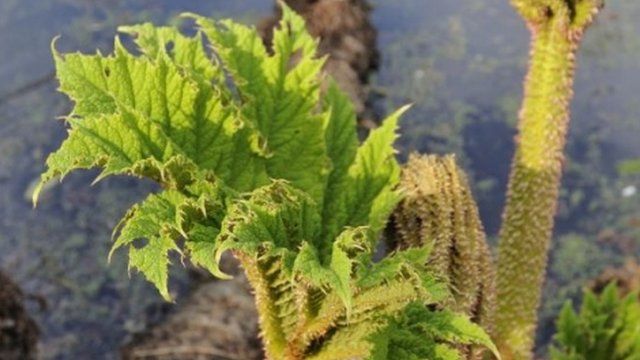 Preparations have begun on an ambitious project to wipe out an invasive species of plant from the Western Isles.
Gunnera tinctoria, also known as giant rhubarb, originates from South America and arrived in the islands as an ornamental garden plant.
However, it has spread to many parts of the isles, covering areas of grazing land and natural habitats.
Scottish Natural Heritage (SNH) is seeking reports from the public of where giant rhubarb grows.
Gunnera was first grown in gardens in Great Britain in the 1840s, before becoming established in the wild in the early 1900s.
With broad leaves that can block sunlight to smaller native plants, the rhubarb can grow to heights of 2m (6ft).
Later this year, SNH plans to consult communities on a five-year, islands-wide control strategy.
It will provide gunnera control advice and offer support to land managers.
SNH has been working in partnership with the North Harris Trust since 2015 to develop an effective control strategy for giant rhubarb on the Isle of Harris.
The new project has begun ahead of Europe-wide ban on sales of giant rhubarb coming into force on Thursday.
People who already have the plant in their garden can keep it, but they must manage it responsibly.
SNH said the plant thrives in mild, wet climates.
A spokesperson said: "It has become invasive in parts of Harris within the last two decades and is starting to invade other parts of the Western Isles.
"We are concerned that it could become invasive on parts of the west coast of Scotland and islands with a mild, wet oceanic climate.
"We are carrying out a survey in the Western Isles this summer but we would also like people to report sightings of gunnera growing in the wild in other parts of Scotland too."
Related Internet Links
The BBC is not responsible for the content of external sites.