First Invictus-style Highland Games held in Caithness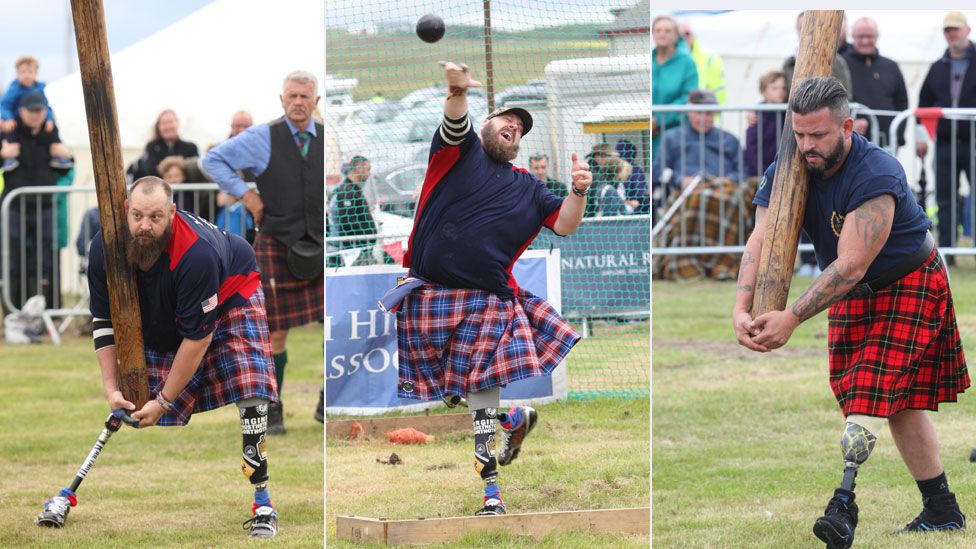 The first ever Invictus-style Highland Games have been held.
Para athletes and wounded armed forces personnel from the UK, US, Australia and France competed in the event held as part of the Mey Highland Games.
Invictus Games, Royal British Legion Scotland and Highland Council were among organisations that supported the new games in Mey, near John O' Groats.
Prince Charles is chieftain of the Mey Games, which were first held to mark the late Queen Mother's 70th birthday.
Help for Heroes, Returned Services League of Australia and the local community council were involved in making the Invictus-style event possible.
The Invictus Games is an international event, created by Prince Harry, in which wounded armed forces personnel compete in sports including wheelchair basketball, sitting volleyball and indoor rowing.
Veteran Simon Flores, who has a prosthetic lower left limb after losing his foot in an explosion in Iraq in 2006, took second place in the new games' para caber toss.
He said: "I wanted to show that, even though I only have one leg, I can still move forward and achieve goals."
On competing in the games, the 38-year-old said: "There was a lot of technique involved, which I hadn't appreciated and, I have to admit, it hurt.
"And it's a good job I wore something under my kilt as it lifted right up as I threw."
Mr Flores and his Help for Heroes team-mates have now been invited to compete in adaptive Highlands Games events to be held in the USA.
Saturday's Mey Games also saw the launch of a new initiative involving the prince's charity, The Prince's Foundation, aimed at encouraging more young people to take up Highlands Games sports.
It will see some pupils at Farr Secondary School, Thurso High School and Wick High School receive tuition in "heavy" events such as tossing the caber, tug-o-war, hammer-throwing and weight-throwing.
High Life Highland and the Scottish Highland Games Association are helping run the initiative.