Orcas and long-finned whales spotted from Scotland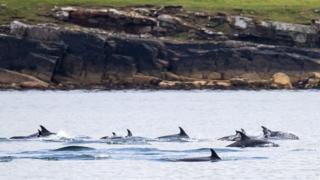 Dozens of orcas off Shetland and a humpback whale doing a barrel roll near Aberdeen were among sightings made during a UK-wide survey.
A fin whale and a pod of five long-finned pilot whales were spotted in deep waters near North Rona in the Western Isles.
The animals are in the first results of the Sea Watch Foundation's 2018 National Whale and Dolphin Watch.
More than 80 individual orcas were recorded off Lerwick, Shetland.
Pods of up to five of the animals were also seen around Orkney.
---
Game, set and splash
Bottlenose dolphins have been photographed playing head tennis with jellyfish in the Cromarty Firth in the Highlands.
The images were captured on Tuesday by Whale and Dolphin Conservation field officer Charlie Phillips.
Mr Phillips took the images from a boat operated by Ecoventures.
The same bottlenose dolphins can frequently be seen in the Moray Firth, a stronghold for the species in Scotland.
---
Common dolphins have been observed around the isles of Skye and Lewis and also off Lochinver in the north west Highlands.
Atlantic white-sided dolphins were recorded in Shetland.
The survey was done between 28 July and 5 August.