Case for Western Isles interconnector submitted to Ofgem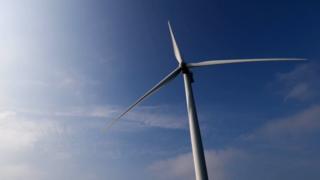 A "final needs" case for a subsea cable linking renewable energy projects to the National Grid has been submitted to regulator Ofgem.
Scottish and Southern Electricity Networks (SSEN) has been planning the link for more than 10 years.
The company has proposed a single 600MW subsea circuit from Arnish in Lewis to Dundonnell in Wester Ross.
The cable would then be connected to SSEN's Beauly substation, near Inverness, via underground cables.
If authorised by Ofgem, the Western Isles Radial Connector could be laid by 2023.
SSEN said it had presented a "comprehensive analysis" of the investment options available to meet "a range of credible future generation scenarios" on the Western Isles.
However, the project is dependent on two planned large-scale wind farm projects, Stornoway Wind Farm and Uisenis Wind Farm, securing subsidy support from the UK government's Contracts for Difference next year.
SSEN has long argued that major renewable projects have to be constructed in the Western Isles for the subsea cable to viable.
'Still many hurdles'
Dave Gardner, SSEN's director of transmission, said: "Today marks a significant milestone in providing a transmission connection to the Western Isles.
"We believe our proposal represents a robust, economic case for reinforcement and provides the best possible opportunity to unlock the renewable potential of the Western Isles."
He added: "There are still many hurdles to overcome, not least the requirement for sufficient volumes of renewable generation capacity securing a Contracts for Difference contract to underpin the investment case.
"We would like to thank our generation customers and wider stakeholders who have helped inform the development of the needs case and we now look forward to working constructively with Ofgem as they review our submission."
Western Isles local authority, Comhairle nan Eilean Siar, has welcomed the latest development in planning for the subsea cable.
Donald Crichton, chairman of the comhairle's sustainable development committee, said the project could allow large volumes of electricity generated by commercial and community-owned schemes to access the mainland electricity market.
He added: "But we cannot be presumptuous - SSEN have made clear that, if Stornoway Wind Farm and Uisenis Wind Farm do not secure Contracts for Difference in next year's price support incentive auction at present generation volumes, there will be no investment case for network reinforcement and the radial connector project will be cancelled.
"We will continue to work with our partners in government, regulation, electricity networks and industry to secure the radial connector project as the best outcome for our island communities."