Fisheries officer DeeAnn Fitzpatrick loses harassment claim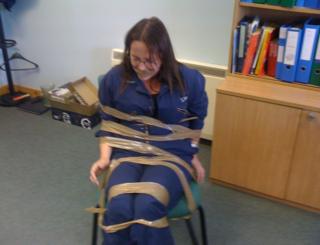 An employment tribunal has ruled against a fisheries officer employed by Marine Scotland who claimed she was harassed by colleagues.
DeeAnn Fitzpatrick said she was targeted after complaining of a racist and misogynistic culture.
Ahead of the tribunal the 49-year-old alleged she was taped to a chair and gagged by colleagues in 2010.
This was not considered as it was said to have happened more than three years before the complaint was brought.
Instead, the tribunal focused on her claim that she had received abusive cards on her birthday and on Valentine's Day between 2015 and 2017.
Ms Fitzpatrick claimed this was part of a long campaign of harassment while she worked in the Scrabster office of the Scottish government agency.
A message in one called her an "old troll" and another warned her about trying to "climb the ladder of success", she told the tribunal.
The Canadian national said the abuse affected her self-esteem so much, she considered ending her own life.
Two men named in the complaint denied sending the cards.
Ms Fitzpatrick has now been informed by the employment tribunal that it will not be upholding the complaint.
In its judgement it said it could not agree whether the cards could be said to have been likely to come from current colleagues.
Speaking to BBC Radio Scotland's John Beattie programme on Thursday, Ms Fitzpatrick said: "My lawyers and I are disappointed, of course, with the tribunal decision because there was a lot more evidence that could have been considered."
She said this information could not be brought before the tribunal because it was time-barred, and she thought that restriction was "unfair".
Earlier in the year First Minister Nicola Sturgeon said she had directed the government's permanent secretary Leslie Evans to carry out a review of Ms Fitzpatrick's case.
Ms Fitzpatrick said she was considering whether to appeal the tribunal's decision, adding that she hoped Ms Evans' review would lead to a situation where she could return to work.
A Scottish government spokesperson said: "We are committed to ensuring our employees are treated with dignity and respect, and our workplaces are free from all forms of discrimination or harassment.
"We have robust procedures to address behaviour that falls below expected standards."
The spokesperson said the review by the permanent secretary was ongoing, and further action would be taken when it was complete.