Headless woman in clan chief mystery reinterred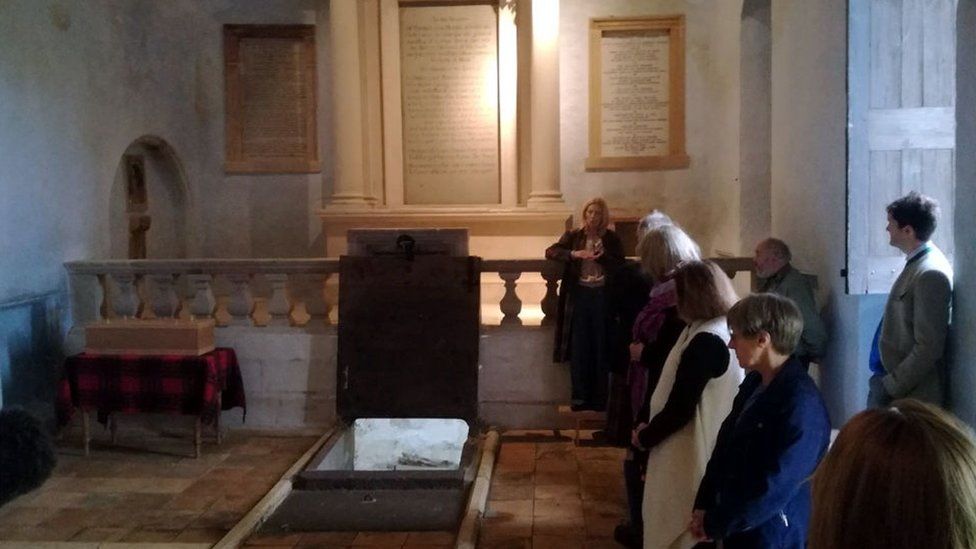 The remains of a headless woman found in a casket thought to have held the bones of a Highlands clan chief have been reinterred.
A short religious service was held at Wardlaw Mausoleum at Kirkhill, near Inverness, for the unidentified woman.
Her remains were found during an investigation of the casket at the mausoleum.
It had long been thought the bone fragments were of Simon Fraser, 11th Lord Lovat and known as The Old Fox.
The woman's remains were placed in a new casket and placed in the mausoleum.
The Old Fox was executed in London in 1747 because of his support for Bonnie Prince Charlie.
According to his clan, his headless body was taken back to Scotland and placed in a mausoleum near Inverness.
The clan chief, the last person to be beheaded in Britain, is recorded in history as a charmer who was prepared to switch sides during and around the times of the Jacobite uprisings.
But the last of those risings, in which he supported Bonnie Prince Charlie, ended in defeat for the Jacobites at Culloden in April 1746. The following year, Lord Lovat was executed at Tower Hill in London.
It is said that several people who had gathered to watch the beheading died after the scaffold they were on collapsed.
Lord Lovat found this incident funny and is said to have been so visibly amused when he was executed that his death led to the phrase "laughing your head off".
The Old Fox is a figure familiar to fans of Diana Gabaldon's series of Outlander books.
In the author's time-travelling, romantic adventure stories, he is the grandfather of Jamie Fraser, one of the books' lead characters.
Scottish actor Clive Russell plays The Old Fox in the television adaptation of Gabaldon's novels.
Clan Fraser historian and author, Sarah Fraser, said there were different theories about who the woman was.
She could be a laird's wife or sister, or someone who had died in London and whose body was used to represent the Old Fox in the coffin when the Fraser clansmen failed in their attempt to seize the chieftain's body.
The historian said: "We think she was a pauper who had died and she was then used in this way.
"Ordinary people get swept up into history, you see it on the news every night.
"That is a dramatic and traumatic experience and to be able to put her where she is peaceful is very moving indeed."
Related Internet Links
The BBC is not responsible for the content of external sites.