Survey team heads for the Faroe-Shetland Sponge Belt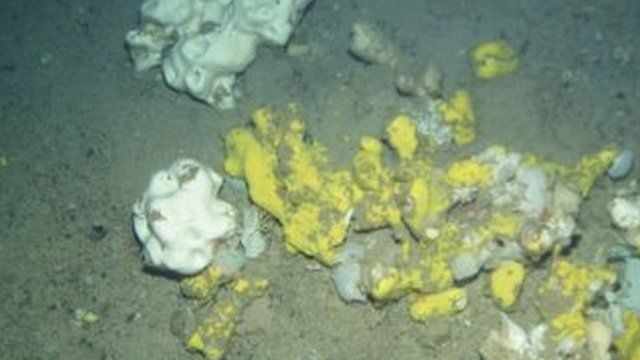 Scientists have set out to begin surveys of some of Scotland's most unusual marine features.
The first site is the Faroe-Shetland Sponge Belt, where sponges gather in aggregations nicknamed cheesy-bottoms due to their appearance.
Also on the team's list is the Wyville-Thomson Ridge, a rocky plateau where beds of sea spiders and sea cucumbers are found.
Another site, the Rosemary Bank Seamount, is an extinct volcano.
The 1,000m (3,281ft) volcano off the Western Isles is one of only three seamounts in Scottish waters.
Previous surveys estimated that it provided habitat to about 88 million sponges.
All three survey sites are types of Marine Protected Areas.
Scottish government directorate Marine Scotland Science, and UK organisation Joint Nature Conservation Committee (JNCC), are involved in the surveys.
The work is being done from the Aberdeen-based, Port Glasgow-built fisheries research ship, MRV Scotia.
Related Internet Links
The BBC is not responsible for the content of external sites.