'First' commercial rocket launched from Scotland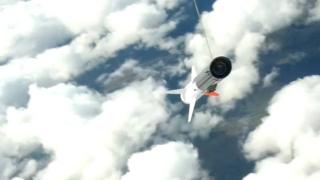 What has been described as the first commercial rocket test launch has successfully taken place in the Highlands.
Edinburgh-based Skyrora launched its Skylark Nano on land at Kildermorie, north-west of Evanton in Easter Ross.
The trial comes after land at Moine on the north coast of Sutherland was chosen for a proposed commercial satellite launch site.
Skyrora plans to bid for a contract at the new facility.
The 2.5m (9ft) long Skylark Nano accelerated to Mach 1.45 and reached an altitude of four miles (6km).
Robin Hague, the company's lead engineer, said this week's test was the beginning of its launch experiments in Scotland.
He told BBC Radio Scotland: "This particular launch enabled us to test a system on a small scale using commercially available propulsion systems.
"It is a cost-effective and a quick way for us to try things out for real in advance of a big liquid-powered rocket coming together."
Rockets have previously been launched from Scotland as part of military training.
Two years ago, a rocket from the Hebrides missile range in the Western Isles became the first vehicle to be launched into space from UK soil.
It happened in October during an international military exercise in the Atlantic.
The following year, a new record for the largest and highest object launched into space from the UK was set.
The Terrier Oriole rocket was launched from the same range in the Western Isles during Nato exercise Formidable Shield.
The rocket, used by US space agency Nasa and almost 4m (13ft) long, reached an altitude of 155.6 miles (250km).
The Terrier Oriole was used to represent a ballistic missile and was tracked and then destroyed.