Couple tie the knot on Loch Ness race finish line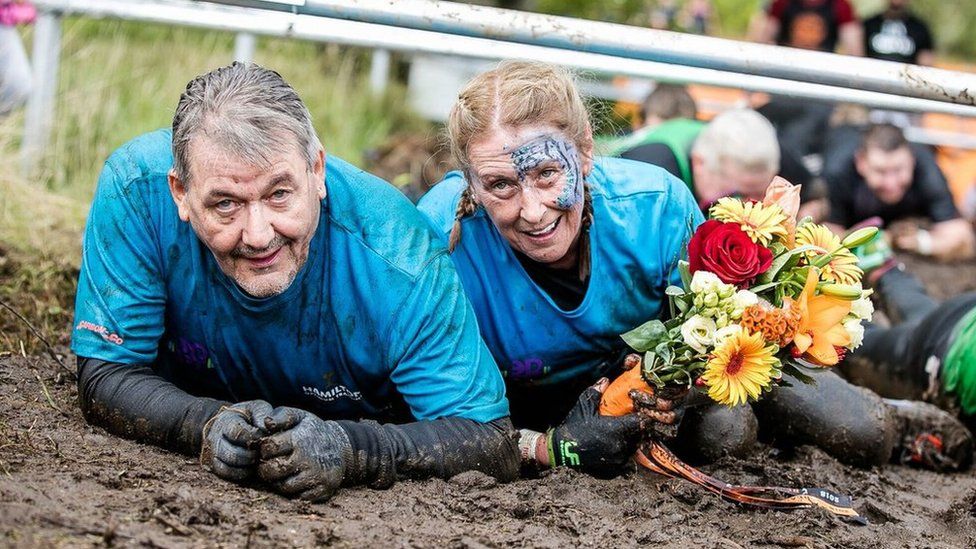 A couple taking part in an extreme obstacle course race at Loch Ness stunned other competitors when they got married on the finish line.
Marlene Harper and Les Simpson, from Wick, had secretly decided to get hitched after the race on Saturday.
Eighty of their friends were at the ceremony - along with thousands of other participants.
The muddy couple had just completed the 10km Prime Four Beast Race, which featured 30 obstacles.
Marlene said: "Neither me or Les have ever taken part in anything like this before, but we wanted to do something to show how far we've come. It was amazing to get married in front of all our friends, and it was a great surprise for them."
Les added: "After all the mud and sweat came the tears, because Marlene was still my beautiful bride. It's a day we shall never forget."
Jono Buckland, director at organisers FireTrail Events said: "It's not every day that something like this happens at the Prime Four Beast Race, but what a brilliant experience for all involved. A couple that races together stays together."
The couple completed the race in just over three hours.
A total of 1,500 participants tackled the extreme obstacle course, with the fastest male, Gavin Hogarth completing the course in 48 minutes, and the fastest female, Coralie Arthur finishing in just under an hour.