The strange deep sea creatures off Scotland's coast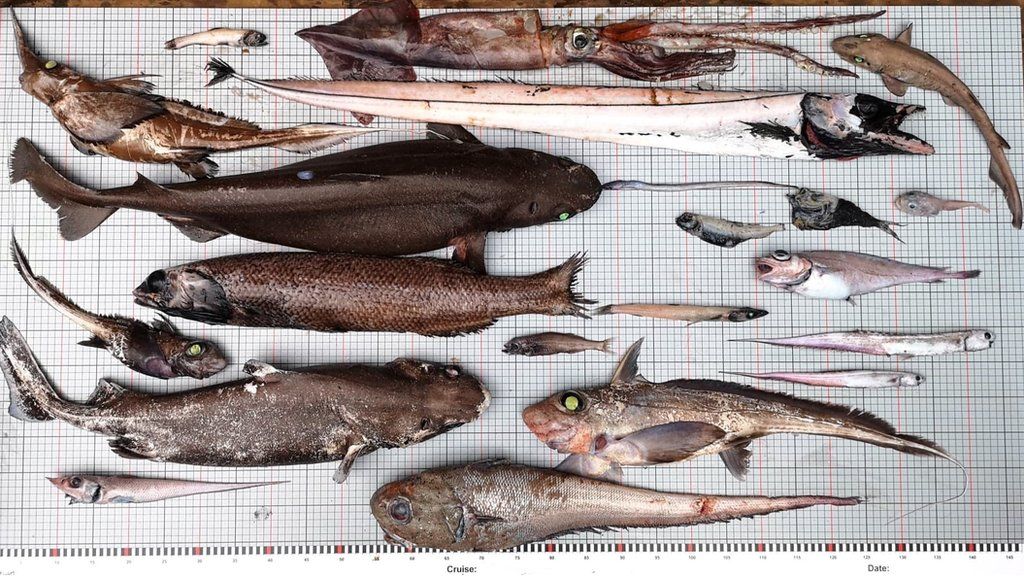 Some of Scotland's strangest looking marine creatures are being found among some of its most unusual marine features.
A team of scientists is surveying three separate deep sea marine protected areas.
The first of the sites is the Faroe-Shetland Sponge Belt Nature Conservation Marine Protected Area.
It lies west of the Shetland Islands and is a large rift basin that separates the Scottish and Faroese continental shelves.
In the sponge belt, sponges gather in aggregations nicknamed "cheesy-bottoms" due to their appearance.
Another of the survey sites is the Rosemary Bank Seamount Nature Conservation Marine Protected Area, a 1,000m (3,281ft) extinct volcano off the Western Isles.
One of only three seamounts in Scottish waters, previous surveys estimated that Rosemary Bank Seamount provided a habitat to about 88 million sponges.
The third area being investigated is the Wyville Thomson Ridge Special Area of Conservation, a rocky plateau where beds of sea spiders and sea cucumbers are found.
The team of scientists have been carrying out trawls to better understand the range of creatures that inhabit these and surrounding areas.
Among the animals found have been squid, catsharks and black scabbardfish.
They have also discovered rhinochimaeras - fish which have a łong extension on their snout reminiscent of a rhino's horn.
The trawls have been made to depths of 1,800m (5,906ft).
Scottish government directorate Marine Scotland Science, and UK organisation Joint Nature Conservation Committee (JNCC), are involved in the surveys, which are carried out by the Aberdeen-based fisheries research ship, MRV Scotia.
All images are copyright of JNCC/MSS.
Related Internet Links
The BBC is not responsible for the content of external sites.