Ancient hillfort Dun Deardail recreated in Lego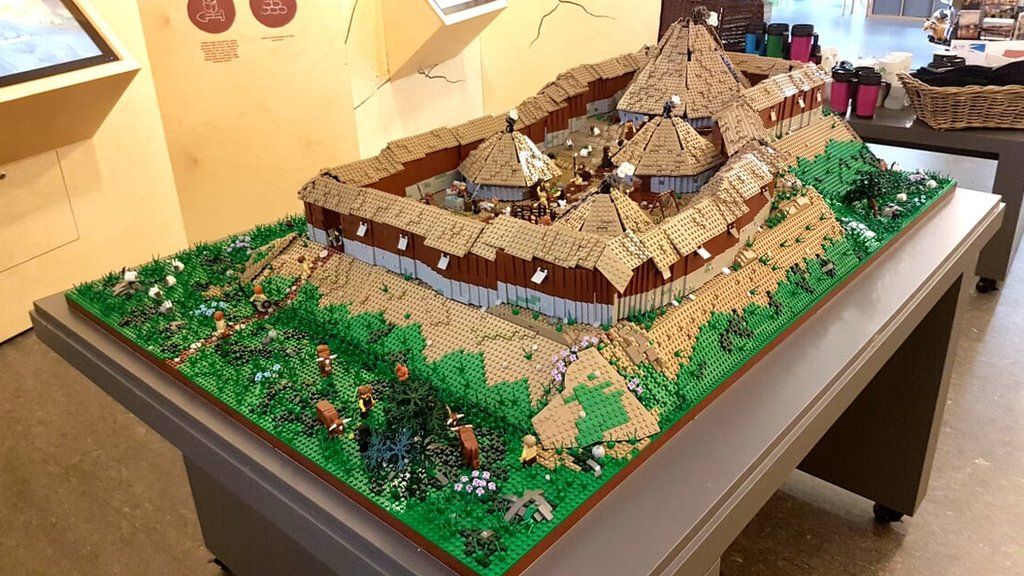 A 2,500-year-old Scottish hillfort has been recreated in Lego.
The real Dun Deardail was constructed of timber and stone on a prominent knoll on Sgorr Chalum, a hill overlooking the River Nevis in Glen Nevis.
It was destroyed in a fire, with the heat so intense that the stones used in the defensive ramparts melted.
Brick to the Past, a team specialising in historically-themed Lego models, used about 35,000 pieces for the recreation.
It was commissioned by the Fort William-based Nevis Landscape Partnership.
Dan Harris, of Brick the Past, began his research for the Lego model in December last year.
He started building it at his home in Nethy Bridge in late January and the model was finished in mid-August.
To get the fort to the Glen Nevis Visitor Centre, it had to be disassembled into a number of smaller modules and then re-assembled over the course of four hours.
Mr Harris said: "I've been visiting Glen Nevis and the surrounding area of years to walk and climb, so it's an absolute delight to have been able to build a model of one of its landmarks.
"It's great to be able to display at one of Scotland's most popular tourist destinations and I hope that the model will encourage people to get out and explore the real hillfort."
The name Dun Deardail, Derdriu's Fort, links it to an ancient Iron Age Irish myth called The Sorrow of Derdriu.
The legend tells of a chieftain's daughter who was said to be so beautiful that kings, lords and warriors fought and died trying to win her hand in marriage.
All images are copyrighted.
Related Internet Links
The BBC is not responsible for the content of external sites.