New official flag of the island of Tiree is unveiled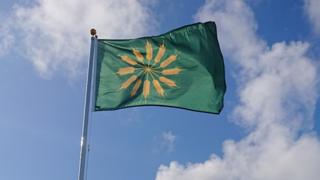 The new official flag of the island of Tiree in the Inner Hebrides has been unveiled.
Donald Cameron's green and gold "Land of Barley" design was chosen after a competition launched earlier this year.
The judges included Philip Tibbetts, Scotland's honorary vexillologist, who supports communities across Scotland looking to develop their own flags.
The design represents one traditional name for Tiree, celebrating fertility: Tìr an Eòrna 'The Land of Barley'.
The ears are arranged into a circular pattern signifying the sun.
Other flags officially recognised have included those for Caithness, Denny and Dunipace and Kirkcudbrightshire.