Ice and fire: Battle to bring climb site back from the brink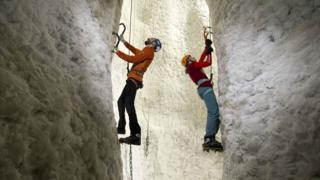 The owner of the world's largest indoor ice climbing facility has said there was a point when he feared a serious fire had destroyed the business.
Ice Factor Kinlochleven opened 15 years ago in a former Victorian aluminium smelter.
In late July 2015, a blaze broke out in the building's sauna.
Jamie Smith, founder and and owner of Ice Factor Group, said "extremely hard work" by the site's team led to its reopening in March 2016.
The cause of the fire that broke out on 29 July three years ago was accidental.
Months of clean-up work followed, and involved melting and removing walls of ice and cleaning thousands of individual climbing handholds.
Mr Smith said: "In the days following the fire, when the full extent of the damage was assessed, it did seem like it was going to be a formidable mountain to climb.
"However, as a team we worked extremely hard and pulled through what was a very challenging period for the business.
"Over the past 15 years, we have been blessed at Ice Factor Kinlochleven with attracting some of the best instructors and staff in the industry.
"After the fire in late July 2015, everyone was out scrubbing, cleaning and helping to get the facility back on line.
"It involved months of painstaking work and it's an experience I wouldn't wish to repeat."
He added: "I'm proud that we managed to retain our staff on full pay throughout the eight-month closure period, which was challenging financially but the positive payback has been evident."
The Lochcarron-born mountaineer and entrepreneur opened Ice Factor Kinlochleven at the 120-year-old smelter in 2003.
Last year, the Lochaber business had its busiest year yet.
Climbing instruction and competitions are the main business, but since the fire the site's team have sought to find other forms of revenue.
Mr Smith said: "There is no doubt that in recent years we have become a major hub for the likes of outdoor charity events and the burgeoning endurance race scene.
"The latter has become a notably growing part of the Ice Factor business and I can see that element continuing to develop."
He added: "I believe that's a positive development for the wider Lochaber area too.
"Operating in a relatively remote location, Ice Factor Kinlochleven is playing a part in helping to generate more tourism spend outwith the traditional summer months."