Paramedics working dangerously long shifts, says Unite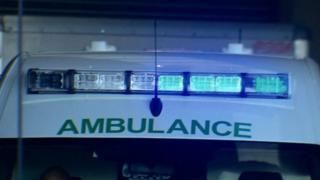 The Unite union has claimed Scottish Ambulance Service (SAS) staff in the north of Scotland work "dangerously long hours".
It said it had found that one paramedic had done a 36-hour shift and another 23 hours, when they should only have been working 12-hour shifts.
The union is issuing a consultative ballot on industrial action to its SAS members.
SAS said it was "keen to listen to and respond to" the concerns of its staff.
The dispute involves crews in the Highlands and Islands and Grampian.
Unite said long shifts risked causing fatigue and risked harming the health and safety of the ambulance workforce.
'Take issue seriously'
Regional officer Tommy Campbell said: "This is unfortunately not an unusual incident and there are many other examples of paramedics working dangerously long hours.
"Unite members in their determination to serve the public have had their goodwill and dedication exploited."
SAS said: "We have long-standing arrangements in place to ensure we put patients at the heart of our decision making, whilst balancing the needs and wellbeing of our staff - who do a fantastic job day in, day out caring for patients across Scotland.
"We take this issue extremely seriously, which is why we are continuing to meet with staff and work closely with them to help resolve any issues raised.
"We look forward to working in partnership with our union colleagues to provide the very best service to our patients and staff."