'Large blobs' on Scottish beaches could be dead whales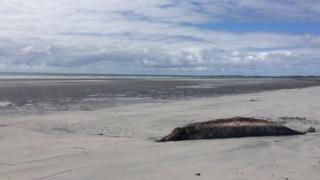 Visitors to beaches on Scotland's Atlantic coast have been asked to keep a lookout for "large blobs" that might once have been whales.
The Scottish Marine Animal Strandings Scheme (Smass) is investigating deaths of deep-diving beaked whales.
More than 50 have been found along western coasts of Ireland and Scotland since the beginning of August.
Inverness-based Smass said reports of "blobs" of decomposing whales would help in its work.
Cuvier's and True's beaked whales have been found dead. Most of them, about 40, washed up in Scotland, including in North Uist and Harris and parts of Argyll.
In an appeal to the public, the Smass said: "The more cases we find, the more chance we have of being able to triangulate a possible origin for these deaths."
Boat operators and others who work along coastlines have also been asked for any sightings.
'Really unusual'
Smass has also sought carcases that are still in a "good enough condition" to necropsy, allowing scientists to find a cause of death.
The scheme said: "Analysis of 25 years of stranding data shows that more animals have stranded in the past four weeks than in all the previous 10 years.
"This is obviously really unusual and something we, along with many of our colleagues, are working to investigate."
Human activity that has resulted in excessive underwater noise is suspected as a possible cause.
Beaked whales, like many cetaceans, have highly sensitive hearing and loud noises can cause them fatal injuries.
Smass' investigation involves working with oceanographers who could potentially work out where the animals died in Atlantic, before washing up on coastlines, through analysis of wind and tidal patterns.
Last month, Whale and Dolphin Conservation called on the UK and Scottish governments to commission investigations into the whale deaths.