Probe continues at quarry searched for Renee and Andrew MacRae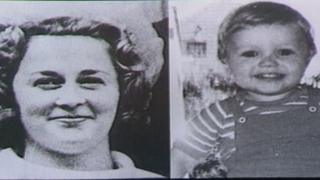 Police are continuing a search of a disused flooded quarry as part of an ongoing inquiry into an Inverness mother and son's disappearance in 1976.
Renee and Andrew MacRae, who was three, vanished on 12 November.
Mrs MacRae's burned-out BMW car was discovered that night in a lay-by on the A9 south of Inverness.
Police using remotely operated underwater kit were at the flooded Leanach Quarry at Culloden Moor on the eastern side of Inverness on Tuesday.
The officers have returned to continue their examination of the quarry, which was searched in the months following the disappearance of the mother and son.
In a statement issued on Tuesday, Det Insp Brian Gedde said: "As part of the ongoing investigation into the disappearance of Renee and Andrew MacRae, officers are visiting key areas of interest in order to establish any further opportunities to progress enquiries.
"The passage of time is no barrier to the investigation of unresolved incidents of this nature."
The senior officer added: "Police Scotland, along with our partners in the Scottish Police Authority Forensic Services, will continue to pursue any opportunities to progress the investigation, which will hopefully provide answers for the family of Renee and Andrew MacRae."
On the evening of her disappearance Mrs MacRae, 36, had set off to meet her lover Bill McDowell in Perth but he told police they never met.
There has been speculation that Mrs MacRae and her son were murdered and their bodies buried at either a quarry or at construction works for the A9.
In 2004, police searched nearby Dalmagarry quarry but no bodies were found.
Two years later a report naming a suspect who may have killed the pair was sent to prosecutors but they decided there was insufficient evidence to take action.