Moon and streetlights pose problems for young shearwaters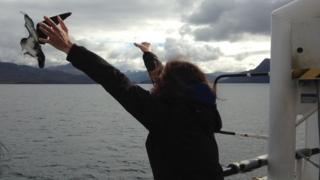 Scientists have investigated why young seabirds can end up grounded and in difficulty in a Highlands village.
Manx shearwaters from colonies on the Isle of Rum have had to be rescued in Mallaig on the mainland, after flying there instead of remaining out at sea.
In 2012, large numbers of the migratory birds, which find it difficult to take off in built up areas, were rescued.
The researchers said nights with little moonlight and strong westerly winds and also light pollution were factors.
The scientists said the results of their research, Factors influencing Manx Shearwater grounding on the west coast of Scotland, could help co-ordinate rescue efforts.
They said their studies confirmed that nights with the highest risk of groundings had less moonlight and strong westerly winds.
These factors played a part in drawing the young birds to the streetlights of Mallaig, rather than the light of the moon. Moonlight encourages the young birds to remain off the coast and out to sea.
Among those thanked by the scientists in their study were the communities of Mallaig, Morar and Arisaig for their help in rescuing shearwaters.
Ferry operator Caledonian MacBrayne was also praised for allowing the rescued birds to be released from one of their boats while it was at sea.
Manx shearwaters arrive in the UK in February and March to breed on islands where there are few or no ground predators.
The birds leave in July and migrate to South America for the winter.