Inverness cyclist Jenny Graham on last leg of record bid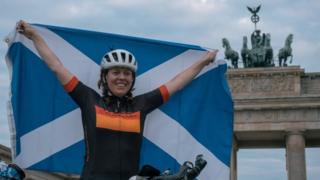 A Scotswoman is back in Europe in her attempt to set a new record for a woman cycling around the world.
Jenny Graham, 38, from Inverness, has already crossed Russia, Mongolia, Australia, New Zealand and Canada on her bike.
Now in Spain, she is aiming to finish in the German capital Berlin where she began her journey in June 114 days ago.
The current record of 144 days was set in 2014 by Italian cyclist Paola Gianotti.
Ms Graham, whose attempt involves cycling 18,000 miles (28,968 km) across 15 countries unsupported, had hoped to set a record of 110 days.