New atlas of Scotland's west coast marine wildlife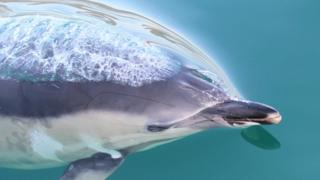 A marine wildlife conservation group has created an atlas of Scotland's west coast to show where discoveries have been made over the last 15 years.
The Hebridean Whale and Dolphin Trust drew on data gathered by scientists and volunteers during 200 research trips on the charity's yacht, Silurian.
Information in the atlas includes the 23 cetacean species recorded off the west coast.
The cetaceans include a group of orcas, known as the West Coast Community.
The group, which ranges from the north and west coast of Scotland to Ireland's west coast, contains older animals.
The orcas do not breed and experts say the community will eventually die out.
Lulu, a female in the group, was found dead on Tiree in 2016.
Tests revealed her body contained among the highest levels of polychlorinated biphenyls, or PCBs, ever recorded. The chemicals were banned from the 1970s but are still in the environment.
In the atlas, there are also details of basking shark "hotspots" and the deep Rockall Trough, which the trust describes as a "migration highway" for blue, sperm and a northern-bottlenose whales.
Dr Lauren Hartny-Mills, the Mull-based trust's science and policy manager, said: "This pioneering research is transforming our understanding of the Hebrides' remarkable cetaceans, while offering new insights about trends and changes in the marine environment."
Television presenter Liz Bonnin, patron of the trust, said: "It is increasingly clear that the Hebrides is a truly special place for cetaceans and basking sharks, and that we need to do far more to protect them and their environment.
"I had the great pleasure of sailing on Silurian and I am thrilled to be able to lend my support to such an outstanding organisation which works directly towards these goals."