Protest held as Culloden housing development work begins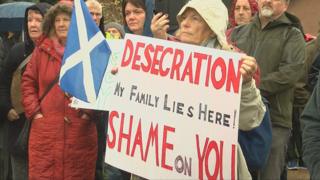 Local campaigners staged a protest as building work began on a controversial housing development in the Culloden Battlefield conservation area.
Dozens of people took part in the protest against the construction of 16 homes at Viewhill, near Inverness.
They claim the Kirkwood Homes scheme is a "desecration" as it lies inside the historic boundaries of the 1746 battle.
Archaeologists have said nothing of significance has been found at the site.
Planning permission for the development was originally refused by Highland Council before being approved by the Scottish government in 2014.
Protestors said they knew the project could not now be stopped but added that they hoped people would think carefully before buying the properties.
One of the organisers of the protest, Steve McLennan, claimed the development could open the way to further building.
He said: "It's classed as one of the most intact battlefield sites. If it continues, we'll end up under a concrete jungle."