Karen Gillan coming home for the Inverness Film Festival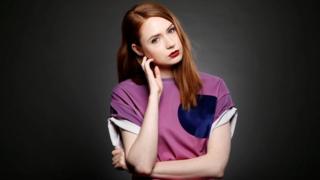 Film star Karen Gillan is to return to her home city of Inverness for a screening of her directorial debut The Party's Just Beginning.
The Avengers and Jumanji actress will take part in a preview, including a Q&A, of the film which explores the issue of suicide in the Highlands.
The event on 8 November forms part of the 16th Inverness Film Festival.
Running from 7-11 November, the festival is to be held at the city's Eden Court.
Gillan studied drama and performed at Eden Court and was also a member of its youth dance company and senior youth theatre. She is an ambassador for the arts venue.
Organisers of the Inverness Film Festival tweeted that they were "thrilled" to announce Gillan's appearance at the preview next month.
The actress, who rose to fame as Amy Pond, the companion of the 11th Doctor Who, Matt Smith, has starred in Hollywood blockbusters like Jumanji: Welcome to the Jungle, the Guardians of the Galaxy films and Avengers: Infinity War.
Her latest film, All Creatures Here Below, is about a young couple on the run and seeking refuge in Kansa City.
Gillan was recently cast in an upcoming adaptation of Jack London's book Call of the Wild. Her co-stars include Harrison Ford.
The Party's Just Beginning is her feature-length film directorial debut. Its cast includes Lee Pace, one of Gillan's Guardians of the Galaxy co-stars.
Gillan previously wrote, directed and appeared in a short film called Conventional.